Merry Christmas From Utah.com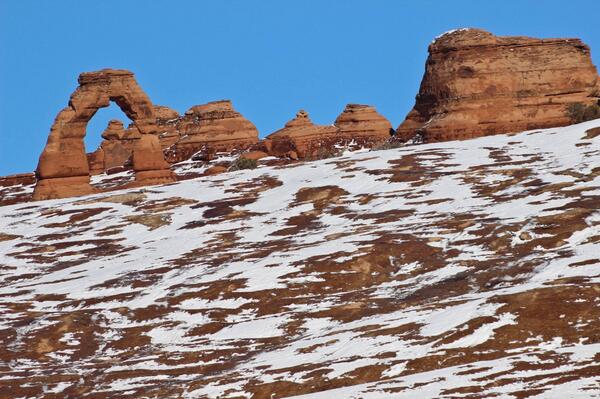 Delicate Arch - Photo courtesy Arches National Park
We wish you all the best during the holiday season.
Much of Utah lies under a blanket of white, thanks to widespread snow earlier this week. Now, Christmas Eve has brought clear skies, crisp air and bright stars. On this special evening, all will be quiet and peaceful. Businesses that cater to travelers will be open and hospitable, but most businesses will be closed so employees can spend time with families. Traffic will be very light.
On Christmas Day, many businesses will be closed but motels, restaurants, convenience stores, movie theaters and recreational spots will be open. Our
national parks
are open year-round but visitor centers will be closed.
Christmas Day is a popular time to hit the slopes and try out new skies, boards and other equipment. Snow conditions should be excellent and none of our
ski resorts
will be over-crowded. We're now moving into the prime weeks of Utah's ski season.
In our low-elevation desert areas, Christmas Day will bring sunny skies and mild temperatures. In the
St. George area
, hiking and biking conditions have been good during the past several days. There are no storms in the forecast and so conditions should be excellent from now into the new year. Daytime highs are expected to push into the mid-50s F this weekend.
In the
Moab area
there is still snow on the ground in many places, as you can see from our photo (provided by
Arches National Park
). The area is warming up, snow is melting and many hiking and biking trails are open. Arches reports that the Delicate Arch Viewpoint is now open after having been closed by heavy snow.
Snow against red rock creates a beautiful scene.
We hope you take time to enjoy this season - sharing memorable experiences with those you love.
- Dave Webb