Best National Parks To Visit In Winter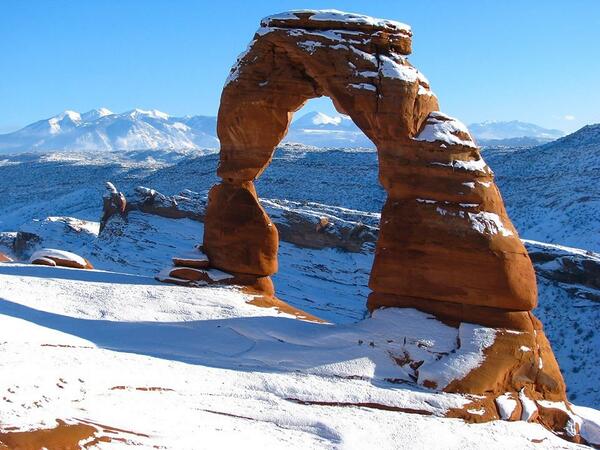 Winter hit Utah hard over the weekend, with cold and snow blanketing the state. That includes
Utah national parks
that normally receive little or no snow. Now, we're seeing amazing photos of snow against red rock. A shot of
Delicate Arch
, in
Arches National Park
, illustrates this post. The photo was posted by the US Department of Interior.

Snow will melt quickly in many areas, so get here now if you want to see it.


10 BEST NATIONAL PARKS TO VISIT THIS WINTER
Bryce Canyon
makes the list, along with
Yellowstone
and
Grand Canyon
. Below I give the snippet of information the article provided about Bryce Canyon, and then I add what I hope are additional insights.
The otherworldly rock formations of Bryce Canyon draw more than 1 million visitors a year, most of whom come in droves every season except winter. However, the hoodoos—iconic red rock spires—look the most dramatic when topped by a heap of snow. Expect a chill, though the park's daytime temperature rarely drops below freezing thanks to its desert location.
Insider Tip: Winter's crisp, dry air makes stargazing particularly vivid. Bryce Canyon offers free ranger-guided full moon snowshoe hikes and winter astronomy sessions.
My comments: Bryce is incredibly beautiful during winter, and is well worth visiting. But expect very cold temperatures. Nighttime temps often fall to around zero F. During the day, the temperature gradually climbs and afternoons can be quite mild. But the cold returns quickly as soon as the sun drops low in the sky. Stormy days can be frigid.
The
Bryce Canyon Winter Festival
will be held Feb 15-17, 2014. It offers a wonderful opportunity to see the park in its snowy glory, and to participate in many kinds of winter recreational activities.
- Dave Webb