Flash Flood Watch, Flooding, Mudslides; Storms Decapitate Moab's Cobra Rock Tower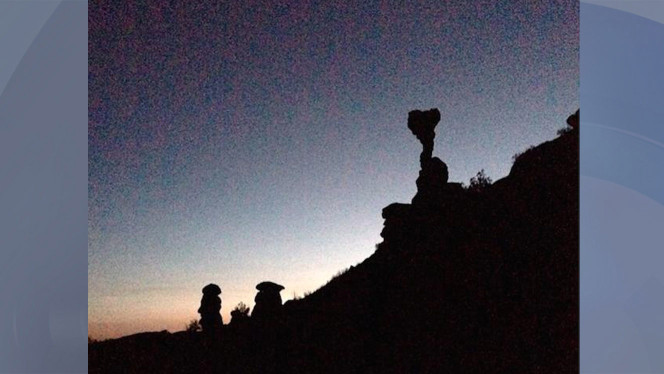 Cobra Rock (

Lisa Hathaway & KSL)
Heavy rainfall in some areas today caused flooding and mudslides that affect travel and recreation.
A flash flood watch is in effect right now for north and central Utah, lasting until midnight. It affects the
Salt Lake
,
Provo
,
Ogden
areas plus the adjacent Wasatch Mountains and the
Price area
.
Here's a quick rundown of reports we've heard:
Heavy flooding in the Helper, Spring Glen and Carbonville areas near Price. Many people have been displaced from homes.
Details
.
SR 31 through Huntington Canyon was closed by flooding but has since reopened.
Details
.
North Salt Lake mudslide has destroyed one home and threatens 4 more.
Details
.
Flood waters and mud have blocked the road to Delicate Arch Viewpoint, though Wolfe Ranch and the hiking trail to Delicate Arch remain open.
In the
Fisher Towers Area
east of
Moab
, the prominent "Cobra Rock" tower's head has fallen off, apparently after being weakened by recent storms. Ironically, it was 6 years ago today that Wall Arch collapsed in Arches National Park.
KSL.com has
this report
on Cobra Rock. Here are excerpts:
"Alas, it was no prank. The Cobra was beheaded," said Lisa Hathaway, who has been living and climbing in Moab for more than 20 years.
The head fell off the tower base sometime between Tuesday and Friday, according to Lisa Bryant, assistant field manager for the Bureau of Land Management's Moab office.
Pictures of the decapitation indicate the top exploded off, Hathaway said. The tower was well-used because of its accessibility to a lot of climbers, unlike other tower climbs in the desert that are more difficult to reach.
"It will definitely be sorely missed. The Cobra was definitely an iconic little summit for people to climb," Hathaway said.