Utah Offers Free App To Help Hunters and Fishermen
Hunting
and
fishing
are very popular in Utah - with both residents and visitors alike. The Utah Division of Wildlife Resources (DWR) has just released a new app to help sportsmen find information, buy licenses and locate productive areas. Versions are available for both
Apple
and
Android
devices.
The DWR provided this information:
DWR launches hunting & fishing app
Carry all of your licenses and permits on one mobile device
SALT LAKE CITY — Utah.Gov, a leader in mobile and online technology, with the Utah Division of Wildlife Resources (DWR) recently launched a free Hunting and Fishing iPhone and Android app. The application gives Utah's outdoor enthusiasts the best information available on their mobile phones and helps them get the most out of their outdoor adventures. The application is Utah's mobile resource for wildlife events, licenses, permits, and communicating with the DWR for outdoor enthusiasts.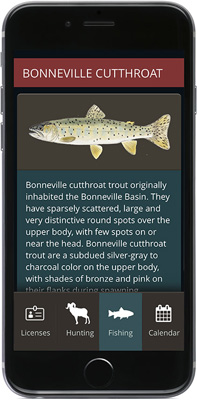 Utah Division of Wildlife Resources photo
Greg Sheehan, director of the Division of Wildlife Resources, says the free app allows hunters, anglers and wildlife watchers to blend their outdoor adventures and the latest technology together, "The app makes it easier to obtain and display hunting and fishing licenses," Sheehan says. "It provides users with quick access to information that will help them in the field. We encourage you to download it, and give it a try."
The Utah DWR surveyed the current technology and looked for ways to provide a leading edge solution that would enhance the outdoor experience for hunters and anglers. The Division developed the application to help the public easily find hunting locations, even in remote areas where they may not have mobile service. One great feature is the ability to store and display hunting and fishing licenses right from a mobile device. In fact, licenses for a whole family or group can all be stored on one smart phone.
One note: if you're hunting a wildlife species that requires you to place a paper tag on an animal after taking it, you must carry the tag with you and attach it to the animal after harvesting it.
Hunters and anglers can download all current valid licenses and new licenses to their mobile device and display them for game wardens. In addition they can:
Find public hunting lands
View Walk-In Access properties
Report poachers
Check shooting hours
Identify wildlife, waterfowl, and fish species found in Utah
You can download the app for free: