Mineral Bottom Road in Canyonlands Closed Indefinitely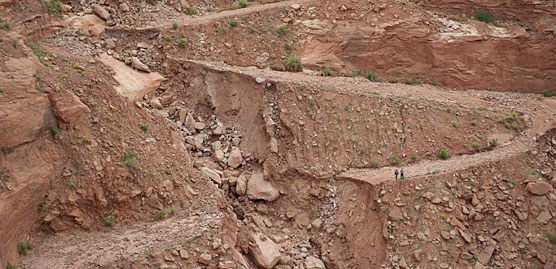 The Mineral Bottom Road is part of the
White Rim
loop and provides access to the
Green River
in
Canyonlands National Park
near
Moab
. The road has been closed indefinitely because part of it was washed out by recent flooding. Other roads are also closed.
Canyonlands NP provided the details below.
Severe storms close many roads
Two NPS rangers lend some scale to the washouts along the Mineral Bottom Road switchbacks. This portion of the road will be closed indefinitely.
Updated: September 8, 2010
On August 19th, severe storms caused flash flooding and rock falls that blocked or washed away roads throughout the Canyonlands area. One of the more dramatic washouts occurred on the Mineral Bottom Road switchbacks (see photo), where significant portions of the road were obliterated. This damage will affect all groups traveling the White Rim Road or planning river trips that launch or take-out at Mineral Bottom.
CURRENT CONDITIONS
Island in the Sky District - White Rim Road
Due to the total failure of the switchbacks on the Mineral Bottom Road, it is currently impossible to complete the White Rim as a loop. The Shafer Trail and Potash roads are open; however the White Rim Road is currently closed to motor vehicles just beyond Potato Bottom. Hardscrabble, Labyrinth and Taylor campsites are not accessible by motor vehicle.
There are currently no estimates for when the Mineral Bottom Road switchbacks will be repaired; however, it will likely be several months. We have temporarily suspended making reservations for the White Rim for calendar year 2011.
Anyone with reservations for White Rim permits during fall 2010 should contact the backcountry reservation office to make arrangements:
Phone: (435) 259-4351
Fax: (435) 259-4285
Send an email...
Green River - Mineral Bottom
It is not possible to access the Green River via the Mineral Bottom Road. Other launches are available upstream of the Canyonlands National Park boundary. Please contact the Bureau of Land Management, river outfitters or the Canyonlands Reservation Office for more information.
Needles District
Many four-wheel-drive roads are closed, including Horse Canyon/Salt Creek and Lavender Canyon. Elephant Hill has been repaired and is now open (as of 9/4/2010).
Maze District
The roads from Utah Highway 24 to Hans Flat or Horseshoe Canyon are very rough, but passable to two-wheel-drive vehicles. The road from Green River to Horseshoe Canyon is being worked on and is not advised for travel. All other roads are open.
Planning a visit to the backcountry?
If you are planning a trip to the park that involves backcountry travel by vehicle, please contact district visitor centers for the most up-to-date conditions:
Island in the Sky District Visitor Center: (435) 259-4712
Needles District Visitor Center: (435) 259-4711
Maze District Ranger Station: (435) 259-2652